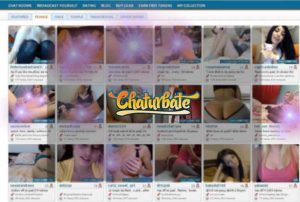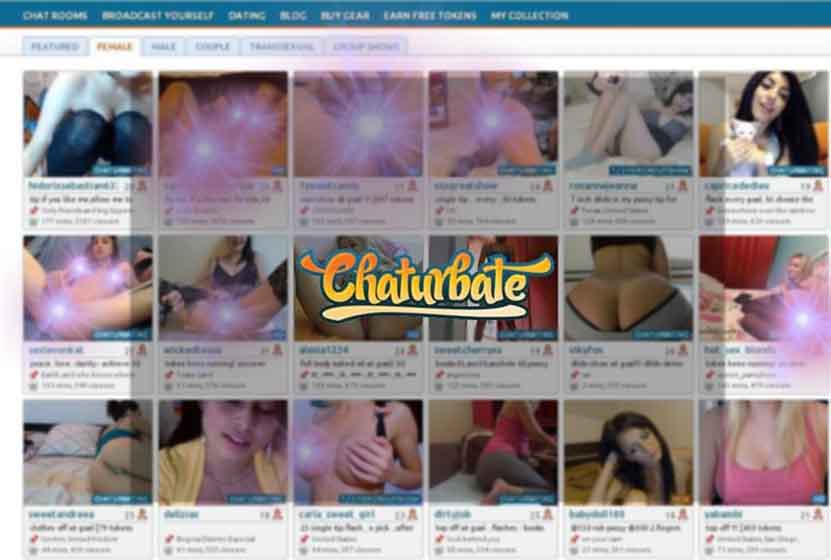 As you first enter Chaturbate and begin your new online experience, you are offered amazing erotic experiences which you can understand from their slogan: "The act of masturbating while chatting online".
Chaturbate is quite new on the adult webcam scene, as it was only founded in 2011. Yet, being new does not mean it is not popular. On the contrary, over the short time that it has been running it has proven to be one of the best webcam sites. As of today, it has managed to get to the point where it has more than 10,000 active models.
This live sex cam site has a clear and easy to use interface. As you load the webpage, you can see large thumbnails of the active cam girls and you can even get a glimpse of the available Live Shows.
Our Personal Comment
Chaturbate is kinda the McDonald's of the cam world… over 2 billion served. If you want slop, you can find it here.  There are many models who, well…. Should not really be camming.
But McDonalds now serves yummy Angus beef burgers, and so to, Chaturbate has some of the hottest models on the internet!  With thousands of models signed up, there are literally 1000+ models available 24/7, 365.
It is truly amazing how many models work with Chaturbate.  But this can be a double edged sword.  However, if you enjoy window shopping and looking at literally hundreds of women at a time to find that "diamond in the rough", this site is for you!  If you are a cam hunter, you have found your prey!
The Offer
On Chaturbate.com, there are the following membership options available:
Guest User – this is mainly the basic option. As soon as you load the page without being registered with an email, you appear as a guest user. This membership allows you to watch free Shows. You cannot interact with the Models using this option.
Basic Membership – this option offers you completely free webcam chat and also the ability to chat with Models who are active. Also, you can view the Shows on full screen.
Premium Membership – this is also known as a Supporter Account and it costs $20.99 per month.
Regardless the membership plan you have, there are the following features available on Chaturbate.com:
Free public chat – this is the basic level chat and it can be accessed by anybody. As a guest member, you cannot access the video sex chat, but you can view the show without a time limit.
Private Sex Shows – this feature is only available to users who create an account and top it with tokens.
Cam-2-Cam – this feature allows you to also show your webcam to the model of your choice. This might lead to higher pleasure, mainly because the cam girls could feel more determined to make you feel wonderful as long as they also see you while you see them. This is a more private chat type and it opens the interaction between you and the Models.
Tipping – this feature allows you to send tips – money – to the Models of your choice to show them your admiration and appreciation.
Pricing And Payment Options
On Chaturbate.com, you use tokens, which you can buy in different batch quantities, which usually range from 100 tokens to 2025 tokens. You can pay with any of the following methods:
Credit card/debit card
Wire transfer
Money order
Personal check
Here you can see the available batches of tokens and their price:
100 tokens for $10.99
200 tokens for $20.99
500 tokens for $44.99
750 tokens for $62.99
1000 tokens for $79.99
2025 tokens for $159.99
The private Shows can differ in pricing, as every model can choose the amount of tokens to be paid per minute of private show. The minute can cost:
6 tokens
12 tokens
18 tokens
30 tokens
60 tokens
90 tokens
Choosing The Models
As any other Adult Webcams sites, Chaturbate.com also allows you to choose some options regarding the model and show you wish to see. Most of the options are only available for registered users, though even guest users can select through the following options:
Featured
Female
Male
Couples
Transgender
Group/Private Shows
Age: 18-21, 20-30, 30-50, 50+ (Mature webcams)
Region: North-America, South-America, Euro-Russian, Philippines, Asia and other regions
Status: Exhibitionist Show, Private Show, Group Show, HD webcams
If you are a registered user, you can gain access to advanced options, which allow you to choose all the details you wish in order to get complete satisfaction during the Shows of your choice.
If you do not wish to choose a certain option, you can still adapt your choice to your preferences taking a peek at the thumbnails of the available Models. Under every picture, you can see some details regarding the certain model, such as the age, location and some features that the Model is ready to offer during the show.
Pros of Chaturbate.com
There are some benefits that this online adult site has, from which there are to mention:
Free membership, where no email is required
Cheap prices
Free live adult chat
High number of active Models
A variety of options that allow you to choose the show you would enjoy
Free video Shows
Tipping options
Wide variety of chat rooms
Bio available in thumbnail
Good customer support
Multilanguage interface – you can choose between 15 available languages
Cons of Chaturbate.com
As any other Live Sex site, Chaturbate.com has its own drawbacks as well. Some of the cons for this adult site are:
Sometimes screen freezes for some model
Poor sound quality for some rooms
Slow loading of certain rooms
Opinion on Chaturbate.com
Although Chaturbate.com is quite new on the live webcams market, it is quite promising. It has plenty of interesting features and it has a wide variety of models, which you can choose using the available options.
One thing that makes the difference from other webcam sites is the customer support, which gives help files on certain topics that might interest you. Besides the predefined topics, you can also contact the customer support by filling the form and if needed, you can also attach a file and send it to the customer support.
With all these features, options and benefits, it is not difficult to imagine that Chaturbate.com will soon be one of the best webcam sites, ready to offer its visitors and members the ultimate satisfaction experience, which they can get while watching the hot Models doing their job in front of the webcams.
Chaturbate is without doubt the number one site that we reviewed. The site offer a ton of beautiful girls (on the default site – also offer a male version) to chat with in various niches and categories. Like all cam programs, you can view and chat with all the girls while they are not in their private one on one chat sessions.
My Own Experience
If it is live pussy sex cams you want then you have just hit the juicy jackpot!
This is Chaturbate and this is my friend the ultimate in live uncensored and highly erotic adult entertainment. Packed with pussy the girls here have one goal in life – to make a few dollars – put on the ultimate sex cam shows and make sure you fill a bucket full of cum.
These handpicked hotties are a delicious mix of amateur and professional live porn models who love to get down and dirty live on cam. And unlike many other free live pussy cams the sign up here really is free with no nasty extras!
I have just spent a very happy 20 minutes browsing all the live beauties and found it hard to pick out one of the babes to feature in this sex cams blog post. Honest to God every single one of these live babes are gorgeous and more than ready to bring some live erotica into your life.
Choose from a massive collection of babes from Asian to amateur – porn stars to teens – BBW and yes even gay.
Like I said sign up is free and you can even set a daily limit so you do not blow your load and your dough in one visit. And checkout the party and gold show cams where a group of you pitch in and pay the girl a small fee to get her to put on a sex show that really will blow your freaking balls off.
This is how live amateur sex cam sites should be run so get in there right now and start hooking up with hot chicks live on line.